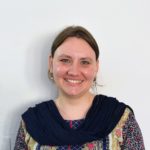 Hi! My name is Michaela Bekaan and I am the author of Qadam.
I have been involved in foreign language teaching and intercultural communication for 10+ years. When I moved to Pakistan I fell in love with the Urdu language – but was surprised to find that the field of Urdu as a Foreign/Second language was almost non-existent. Although Urdu/Hindi is among the Top 5 most widely spoken languages!
This led me to start Zubaan – a language service provider dedicated to teaching Urdu as a Foreign/Second Language. One of the challenges we ran into was the lack of language teaching material, espcially material that focuses on communicative language teaching. This is where the idea for Qadam was born.
The student- and workbook was developed together with the input of Zubaan's Urdu teachers, who have been teaching over one hundred foreigners from around the world. We have tested the content in the classroom and have incorporated feedback from students and teachers alike.
I trust that you will find this resource a helpful guide on your Urdu language learning journey!